Canada issued the new Regulations Amending the Food and Drug Regulations (Nutrition Symbols, Other Labelling Provisions, Vitamin D and Hydrogenated Fats or Oils) in July 2022. This amendment covers a new requirement for mandated front-of-package (FOP) nutrition labeling on pre-packaged foods that are high in nutrients of public health concerns . This initiative aims to provide information and guidance to consumers, enabling them to make healthier food choices and reduce health risks associated with excessive consumption of these nutrients. Based on stakeholders comments and questions, Health Canada published "Front-of-package nutrition symbol labelling guide for industry" in May 2023. This newsletter will briefly highlight the important points in this new change and what foreign manufacturers and the food industry need to know.
What's new?
All foods that contain a determined threshold or more of saturated fat, sodium and/or sugars will have to adhere to the new FOP nutrition labeling.
When is the symbol required?
The FOP nutrition symbol is based on predefined thresholds for various nutrients, which are determined using the Daily Value (%DV) reference. If a food product meets or exceeds the specified threshold for saturated fat, sodium, or sugars, as outlined in the regulations, it will have to display the "high in" FOP nutrition symbol.
Such a symbol must appear on the FOP for:
| Types of food | Reference amount | Thresholds for saturated fat, sodium and sugars |
| --- | --- | --- |
| Prepackaged foods with a reference amount | ≤30ml or 30g | ≥10% DV |
| Prepackaged foods with a reference amount that are not main dishes | >30ml or 30g | ≥15%DV |
| Pre-packaged foods (main dishes) | ≥200g (adults) or ≥170g (children one to four years) | ≥30%DV |
Steps for determining whether a product meets or exceeds the FOP nutrition symbol thresholds
Annex I of the regulation provides a comprehensive outline of the steps involved in determining whether the nutrient content meets or exceeds the threshold and triggers the FOP nutrition symbol. The regulation includes specific guidelines for different scenarios, taking into account factors such as serving size, reference amount, presence of trans-fat, and the target consumers. The general steps are as follows:
Identify the target consumers: Determine the intended consumers of the product, considering specific rules for foods intended for children of certain ages.
Identify the quantity of food. The quantity of food is based either on the serving size or reference amount, depending on whichever quantity is greater. Consult the separate table, Tale of Reference Amounts, to determine what is the appropriate quantity.
Identify the corresponding %DV: Calculate the %DV (Daily Value) for each nutrient based on the chosen quantity of food.
Compare the %DV with the base quantity of the product. If one or more nutrients meet or exceed the %DV, a symbol for the nutrient or nutrients is required.
Presentation of Labeling
The regulation provides flexibility in terms of label presentation formats, but it mandates the inclusion of certain elements regardless of the chosen format. In a white and black color scheme, the FOP nutritional symbol incorporates a magnifying glass icon situated on the left. The "High in" sign effectively communicates the presence of fat, sugars, sodium, or any relevant combination. The symbol "Health Canada / Santé Canada" is displayed at the bottom. The following figures are examples of Health Canada's FOP nutrition symbol formats (in English-only or bilingual version)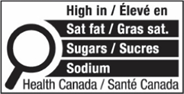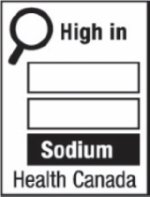 The food industry has been given a deadline (until January 1, 2026), to incorporate this change into their operations. The implementation of this new regulation holds significant importance for manufacturers and food business operators looking to enter the Canadian market. As the regulation takes effect, it is expected to have an impact on various industries. Therefore, it is strongly recommended to become familiar with the new changes in order to adapt and comply accordingly.
Regarding the Japanese labeling rules, while total fat is required, it is not mandatory to declare saturated fat or trans-fat. Sodium is represented in the form of salt equivalent. Therefore, it is necessary to convert sodium into salt equivalent. While Canada requires to separately declare sugars from total carbohydrates, it is not mandatory in Japan.
Currently there is no standard or obligation to label "high in" sugars, saturated fat or sodium in Japan, while Canada covers certain various claims such as "lean", "lightly salted", "unsweetened", "no sugar-added", "no added fat", or "%fat free". "Unsweetened" claim is different from "no sugar", or "no sugar added claim". On the other hand, Japan only has 3 types of claims related to such nutrients: "free" (zero, non-), "low"(or light), and "reduced". Claims such as "lean", "unsweetened", %fat free", and so on are not listed in the reference. Therefore, some claims could be permissible in Canada but might not be applicable in Japan. It is important to verify and understand well the standards of the claims.
References:
Related Service
Research Services on Ingredients & Food Labeling -For the Japanese Market-
We verify the conformity of ingredients and additives with the standards for use in Japan based on specifications such as formulation lists. We also verify the conformity of the proposed labeling of ingredient names, nutrients, etc. with the labeling standards based on specifications such as formulation lists.
Born in Vietnam. Currently training in Japan as an internship student from Wageningen University & Research (Netherlands). Specializing in biochemistry and researches for food safety standards in various countries.