Book
Contributions/writing in published book
2nd Revised Edition: Guide book Food Labeling Law and related business practical points - from scratch
This book's expository interpretation of the Food Labeling Act and related laws (as well as actual business practices) is a true bible for food manufacturers and retailers when tackling risk pertaining to the above topics.
It is the 2nd revised edition of the same book originally published in 2014, and in which we wrote the parts Ⅱ and Ⅲ.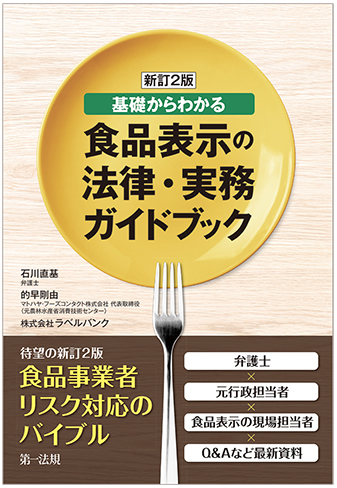 2nd Revised Edition: Guide book Food Labeling Law and related business practical points - from scratch
Authors: Naoki Ishikawa, Takeyoshi Matohaya, Label bank.Co.,Ltd
Publisher: DAI ‐ ICHI HOKI CO.,LTD.
Release date: October 19, 2023
Price: 4,290 JPY (tax included)
The bible of risk response for food manufacturers and distributors, explaining Food Labeling Act and related laws and practices.
The book gives you a comprehensive overview of food labeling laws and practices, including regulatory trends and points to prevent errors in the field, from a compliance perspective, and you can quickly grasp the complex food labeling-related system.
Full of useful hints for checking practical operations step by step and creating in-house accident prevention systems.
Paper Book Edition (Japanese)
Contents
PartⅠ Outline of food labeling regulations, and its compliance

Chapter 1 Food Labeling Laws in general
Chapter 2 Food Labeling Act
Chapter 3 Food Sanitation Act and Other Laws Concerning Food Labeling
Chapter 4 Past and Future Issues of Food Labeling Standards
Chapter 5 Compliance in Food Labeling
PartⅡ How to implement food labeling works and measures to prevent mistakesspan

(written by Label-Bank)

Chapter 1 To Avoid Mistakes in Food Labeling
Chapter 2 What You Need to Know Before Starting Labeling Creation and Review
Part Ⅲ Points to be aware of regarding food labeling creation and review-related works for business operators

(written by Label-Bank)

Chapter 1 How to proceed with label creation
Chapter 2 Viewpoints of label review
Chapter 3 How to Proceed with label review
Part Ⅳ How to establish systems for accident prevention -for safety and quality control-

Chapter 1 Key Points for Establishing an Accident Prevention System in Your Company
Chapter 2 Aiming for a Perfect Food Labeling
Part Ⅴ Materials related to food labeling

1 Contents and Structure of Food Labeling Act and Food Labeling Standards
2 Major Laws and Regulations, Notices, Guidelines, etc. Related to Food Labeling
3 Contents of "Food Labeling Standards Q&A"