Reviewing services for ingredients/additives
Our services have been well received by customers who use them to improve the efficiency of validation for food products from various countries to the Japanese market.
We can also handle inquiries in English such as checking additive names to overseas suppliers, etc.,
Ingredients and labels validation processes can be hard to harmonize

Third-party check services to help with the standardization of your regulatory reviews

Consulting services to cover technical questions from any of your departments

Improved reliability thanks to the answers of our experts
Huge amount of complex documents to be updated and inspected

Promoting efficiency through definition of needed information
Services for the Japanese Market
Ingredients Research

This is a service to research in advance whether or not the product can be sold in Japan with its current specifications (formulation). This service has been used as preliminary research in the case of exporting food products to Japan.

We also conduct feasibility assessment to determine whether your sales copy or product claims (nutrition facts, no additives, functional/health claims, etc.) are valid in Japan, based on the ingredient/product specification submitted.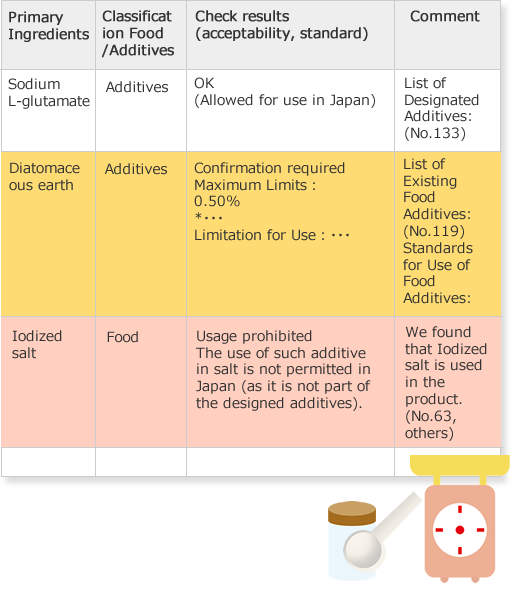 *Report image for illustration purposes only. Actual report may vary.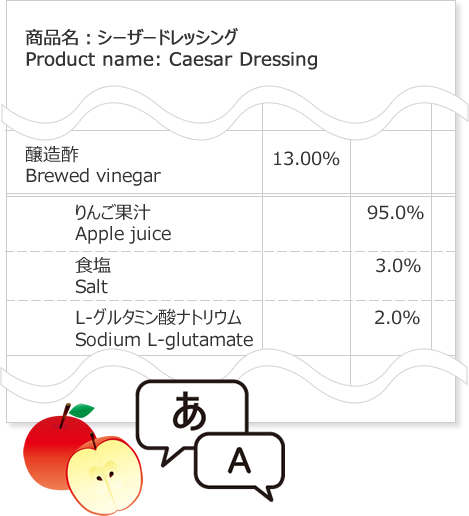 *Specifications image for illustration purposes only. Actual specifications may vary.
Creation and Translation of Specifications

We create product specifications based on specifications for each ingredient used, and also create Japanese specifications based on English specifications. For translation, we adopt and check specialized terminology used by the food industry and Japanese public organizations.
Food Labeling Review

We review the conformity to the standards for use of food additives (This might need a separate service depending on the content) in Japan and Japanese food labeling standard of your food labeling (designs on containers, packages, etc.). Each review will ensure the consistency of your labelings with the content of the related product specifications (allergens, etc.), and can also cover claims (including health claims, etc., as an option).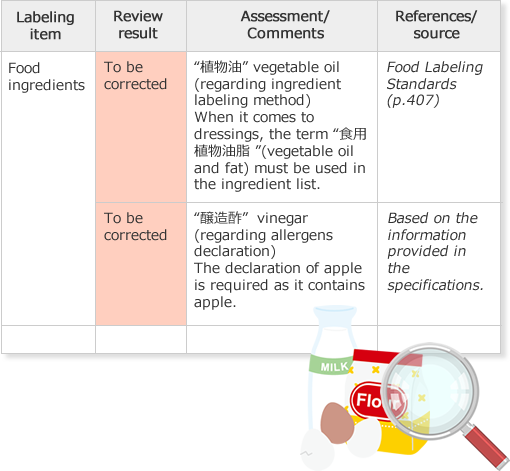 *Report image for illustration purposes only. Actual report may vary.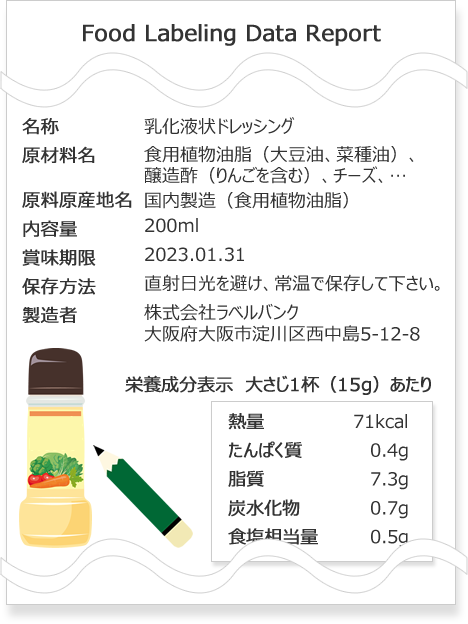 *Report image for illustration purposes only. Actual report may vary.
Food Labeling Development

Based on the product specifications (formula, information to the consumer, etc.) provided to us, we create a labeling draft fulfilling Japanese regulations, i.e. listing ingredients/additives in their respective descending order of weight. The service includes validation of conformity with the standards for use of food additives (This might need a separate service depending on the content) in Japan, allergens, claims on packages, etc.
Comprehensive Project Support

Larger or specific projects often require extended management to ensure that all regulations to be covered are considered, all items are properly tracked and that the information to be used our reviews is correct and complete for each of them.

When such information gathering and tracking is difficult to organize on your side, we will be happy to provide a comprehensive project support to guarantee that all assessments are performed (and based on sufficient information), in order to ensure the full compliance of your products for the Japanese market.

Such support includes (but is not limited to):

- Assessment of all standards needed for your products in Japan (ex: Compositional, manufacturing standards, etc.*), and related compliance work (or introduction of a partner able to do so when our scope does not cover it)
- Review of the evidence to back up claims on your products (ex: certificate, etc.)
- All communication with your suppliers to collect the proper information
- General management of the project, with scheduled follow-up meetings on work progress and report results
- And more, depending on your project needs.

*Caution: We cannot perform lab analysis of food products, but will be able to introduce a partner with such capacity.
About our company
Label bank is a company specializing in food label validation.
We provide services such as ingredient and additive research and
food labeling reviews, as well as database development such as global regulatory
reference database system for domestic and overseas food manufacturers.
Together with several affiliated inspection agencies overseas,
we are constantly working to improve the skills and quality levels of our researchers
in each field of expertise.
Breakdown by country
U.S.A. 86, U.K. 71, Switzerland 64, Germany 59, Italy 58, South Korea 22, France 16, Singapore 11, Spain 8, Sweden 8, Israel 7, Belgium 6, New Zealand 4, China 4, Canada 3, Hong Kong 2, Others 7, Total 21 countries
The chart shows a breakdown by country of the number of transactions (number of times our service was used) of food products exported to Japan among customers with direct transactions (January-December 2021).
Although it varies from year to year, North America, Europe, and East Asia are the most common locations of client companies.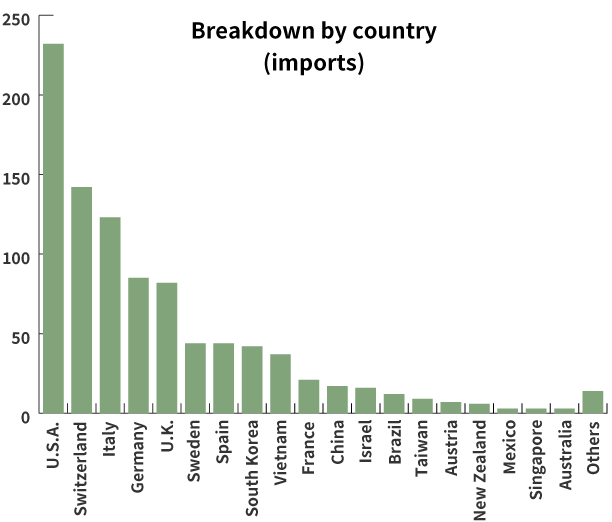 Reference: From "Our company in Numbers"