Introduction
The food industry is growing incredibly fast in all aspects due to the variety of products and their resources. As a result, government agencies are working day and night to ensure that consumers are well-informed and guided in their food choices. We would like to share with you some highlights of the Food labeling regulations around the world.
1. Front of Pack labeling in Brazil
The above cannot pass without mentioning the 'Front of Pack' labeling, a very encouraging labeling trend that has been adopted under different names in the countries such as Singapore (Nutri-grade), Australia (Health Star Rating), UK (Color-coded GDA) and the European region (Nutri-score). Now, other countries are following this "healthy" trend, such as Brazil, which was enforced last October 2022.
Such legislation aims to inform the consumer clearly and simply about the high content of certain nutrients relevant to health. The "magnifying glass" symbol must be displayed on the front of the packaging, at the top, indicating one or more nutrients, as the case may be when foods contain the following amounts of nutrients:
| A high content of: | Solid and semi-solid foods | Liquids |
| --- | --- | --- |
| Added sugar | 15 g or more per 100 g | 7.5 g or more per 100 ml |
| Saturated fat | 6 g or more per 100 g | 3 g or more per 100 ml |
| Sodium | 600 mg or more per 100 g | 300 mg or more per 100 ml |
The followings are the "magnifying glass" symbol models that can be used:
| a) Models for 1 nutrient | b) Models for 2 nutrients |
| --- | --- |
| | |
| c) Models for 3 nutrients | |
| | |
In addition to the above, other changes have been made to the Nutrition Facts panel and changes have been proposed to the criteria for the use of nutrition claims to avoid inconsistencies with the FOP label.
The transition period for companies to adjust their existing labels is until next October 9th, 2023 for food in general.
2. GMO Labeling updates
Advanced technologies are being incorporated smoothly into our plates, and some consumers are still quite reserved when it comes to their food. However, the science of genetically modified organisms continues to grow faster and wider. Therefore, governments are trying to further simplify the idea of GMO foods and to clarify their advantages while putting more care into drafting the legislation.
A. Malaysia: 'Guidelines on Labelling of Food and Food Ingredients Obtained Through Modern Biotechnology' were published.
On Jan 16th, 2023, guidelines on labeling GMO products and ingredients, were published, highlighting the necessity of displaying the origin of food and food ingredients obtained through modern biotechnology on the label as follows: "gene derived from (origin)".
Please also note, that even if the food and food ingredients are produced from a GMO, but do not contain GMOs, it is mandatory to display the following statement: "produced from genetically modified''.
The above labeling requirements apply ONLY to foods containing, consisting of, or produced from GMOs in a proportion greater than 3% of the food ingredients 'considered individually, or foods consisting of a single ingredient, provided that this presence is adventitious or technically unavoidable'. The guidelines also detail labeling requirements, such as where to place the statement for single and multiple-ingredient products, and labeling exemptions.
Example of Labeling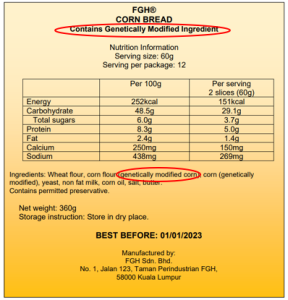 Legislation
(d) in the case multi-ingredient foods, the information shall appear in the list of ingredients immediately following the ingredients; and
(e) the statement "contains genetically modified ingredient" shall be stated on the principal display panel in close proximity with the name of the food and shall be in not less than 10 point lettering.
Example of Labeling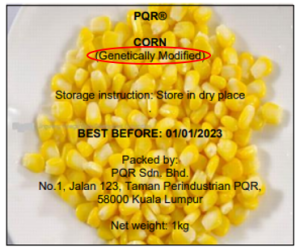 Legislation
(c) for the purpose of paragraphs (a) and (b), in the case of single-ingredient foods, the information shall appear on the principal display panel in close proximity with the name of the food and shall be in not less than 10 point lettering;
B. USA: 'Feed Your Mind' A smart move from the FDA
GMO foods have been in our markets since the 1990s and continue to increase in quality and variety. The FDA has taken several steps to ensure these products' safety and provide consumers with as much information as possible.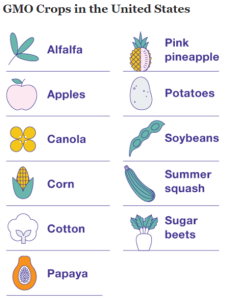 For example, the FDA has launched a new educational initiative and published a brochure in July 2022 to explain GMOs and reassure consumers about health and allergies. Since the term "GMO" itself is known to consumers as a reference to foods derived from genetic engineering, this initiative introduces the term "bioengineered" instead.
A new national standard that defines bioengineered foods as 'those that contain detectable genetic material that has been modified through certain lab techniques and cannot be created through conventional breeding or found in nature', has been enforced on January 2022.
It is now mandatory to disclose food labeling if they are bioengineered.
3. Labelling of processed food served in restaurants with the meals
On January 12th this year, the Taiwan Food and Drug Administration released a draft article requesting public opinion in regards to packaged processed foods served with meals at restaurants.
According to Article 22 of the Food Safety and Sanitation Management Law, food labeling should display all the mandatory labeling items in Chinese.
However, in regards to food labels whose maximum surface area is less than 20 cm2, and following the "Small Packaged Foods Exemption from Partial Labeling" (小包裝食品免一部標示) regulation, one of the following methods can be used:
A. Only labeling of the product name, expiration date, name and address of the manufacturer and the responsible domestic company, country of origin of the product and origin of specific ingredients published by the authorities, and warnings such as allergens declaration.
Or,
B. Only labeling of the product name, and expiration date, in addition to a "QR Code" or other electronic methods, containing the rest of the labeling information, along with the statement "scan here to get product label information" or equivalent any other equivalent statement.
For this reason, and to protect the very interest of consumers, pre-packaged food products served with meals at restaurants such as Ketchup and Mayonnaise, shall now be labeled under the above legislation if the maximum surface area of the outer package is less than 20 cm2
Therefore, the previously released letter exempting small-package food products served with meals in restaurants from individual labeling is now suspended.
Conclusion
It is clear how consumers' interest in receiving enough information about their food products is considered of big importance to governments. There are numerous reasons for this, such as the fast-growing health issues in populations and also the digitalization of information.
In our next article, we will give you a summary of the release from the FDA on The Draft Guidance on the Labeling of Plant-Based Milk Alternatives on February 22nd of this year, which also includes the FDA's recommendations on the use of voluntary nutrient statements. In addition to the above, we will share with you any important new updates to the Food labelling regulations around the world.
References
Related Service
Research Services on Ingredients & Food Labeling -For the Japanese Market-
We verify the conformity of ingredients and additives with the standards for use in Japan based on specifications such as formulation lists. We also verify the conformity of the proposed labeling of ingredient names, nutrients, etc. with the labeling standards based on specifications such as formulation lists.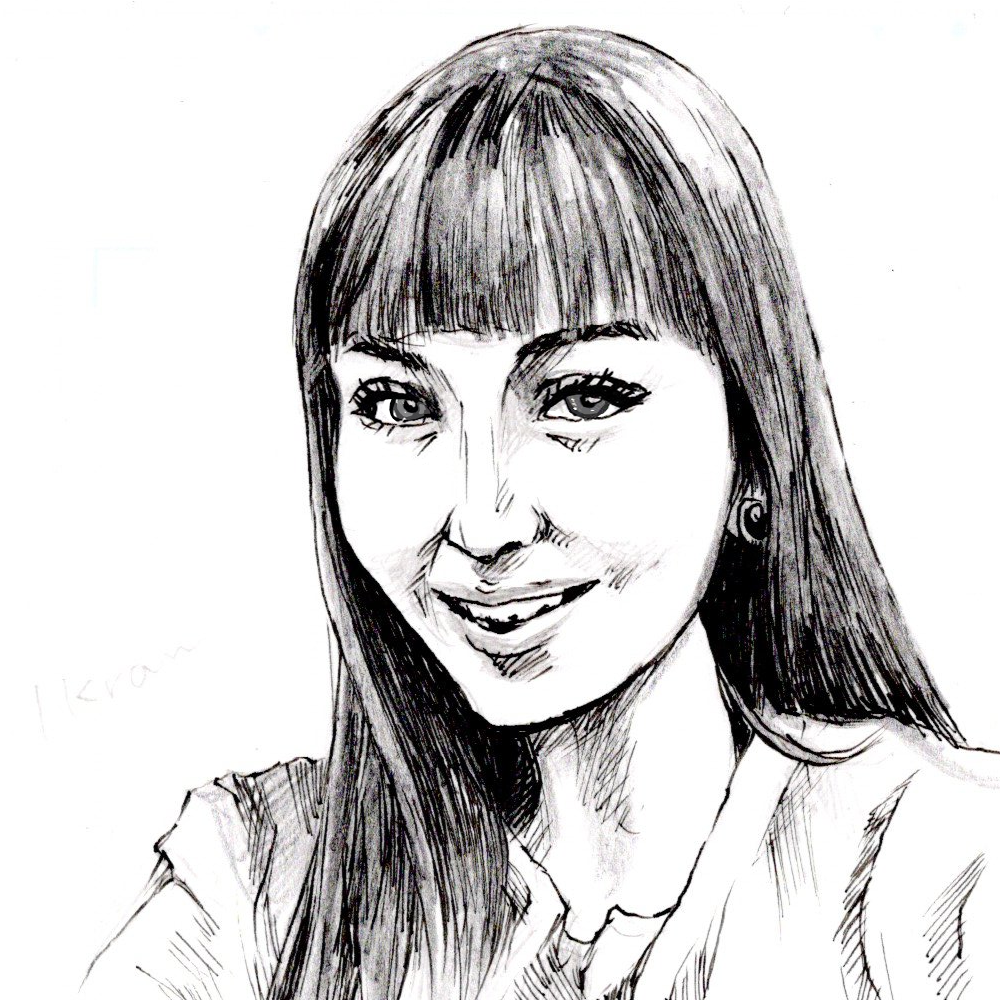 Label bank Co., Ltd. Regulatory inspections and Consulting Research staff
Born in Tunisia. Specializing in bioengineering, her job mainly involves research work on foreign ingredients and additives, as well as monitoring information on amendments to food standards and labeling standards in various countries.